The information on this page is in addition to the letter we published, which can be downloaded below.
We aim to have all pupils back in September, in order to provide face to face teaching, whilst also keeping our students and staff as safe as possible. However, we understand that returning to school may stir up feelings of anxiety for parents, guardians, students and staff.  The Coronavirus outbreak and lockdown has affected us all, and for some it is time for another big change in coming back to the Academy.
In order to begin mitigating some of this anxiety, it is the aim of this page to provide some provisional information, which outlines the 'Draft Plans for the September Re-opening'. Please note, these plans are subject to change, following the updated guidance on August 11th, and are therefore designed to provide a broad outline of the proposed reopening procedure only.
In summary, our September opening plan is currently based on the following objectives:
Zone System
Zones to create 'bubbles' for each year group
Dedicated pastoral support for each year group zone
Dedicated toilets for each year group zone
Staggered start/dismissal times and different entry/exit points into the building
Separate fire drill practice for each year group 'bubble'
Teaching Spaces
Teachers maintaining a distance of 2 metres from students
Teaching rooms modified, so student desks face frontwards
Teaching rooms modified, with a dividing line between teacher and students
Where possible, teachers moving classrooms, instead of students
Specialist Teaching
KS3 students to predominately stay in form groups for their teaching, except for Dance, Drama & PE, which may take place outside (weather dependent)
KS4 students to move classes for their teaching groups but stay within the year group zone
Except for KS4 specialist teaching, where students would be collected by their teacher from a collection point and taken to the specialist space e.g. Art, Computing, Music & PE
On days students have PE or Dance, they arrive in their sports kit
Catering
Students to receive both a break and a lunch, one of which will be classroom based
When the break or lunch is classroom based, cold food to be provided on a trolley service
When the break or lunch is non-classroom based, hot food to be provided
Cleaning
Dedicated risk assessments, outlining the systems of control for the prevention and response to any infection
An upgraded cleaning service, which tours the Academy site
The active promotion of hand hygiene, including hand sanitisers in classrooms and toilets
Example Amington timetable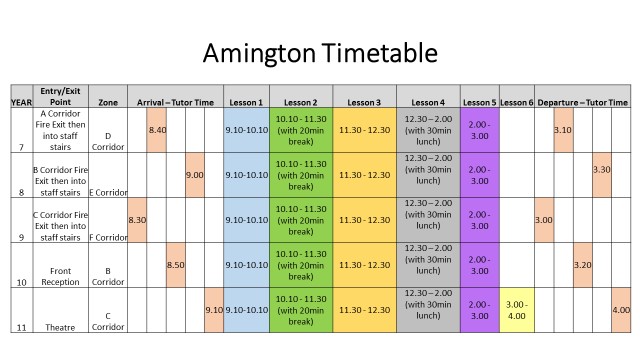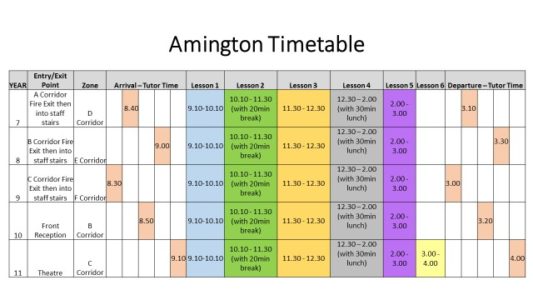 Examples zones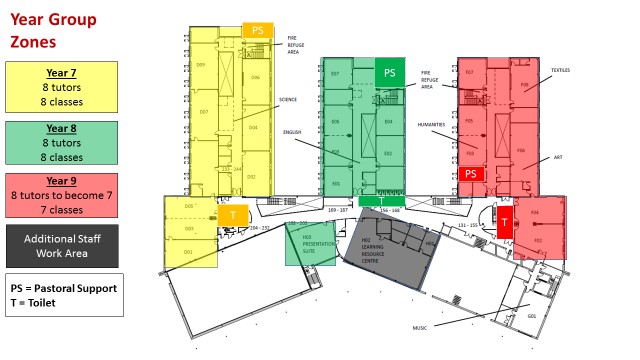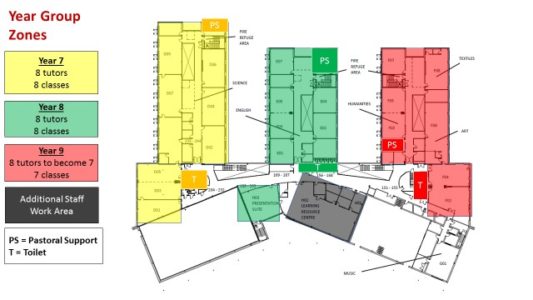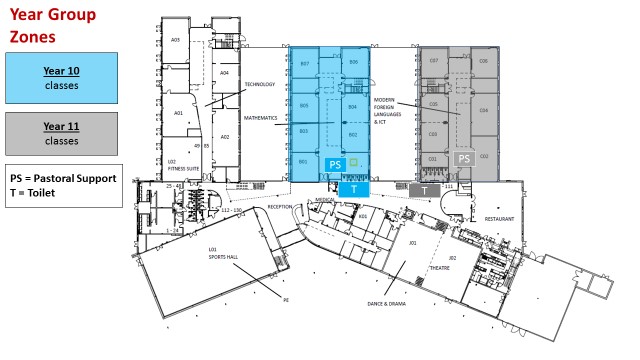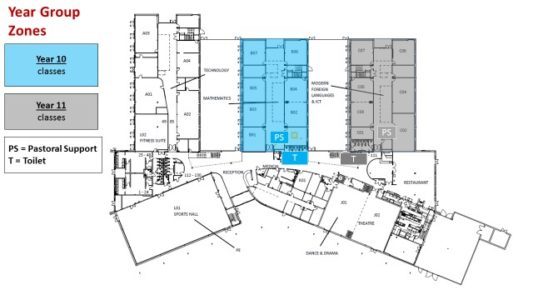 Examples specialist teaching areas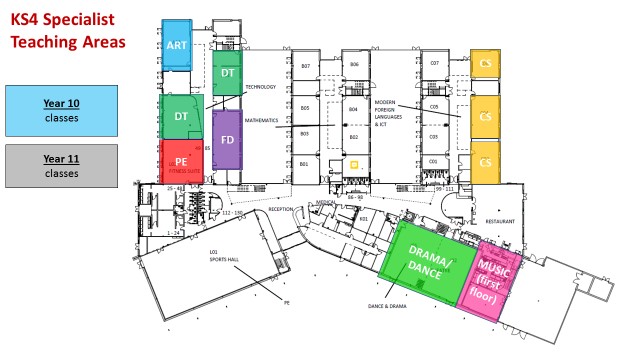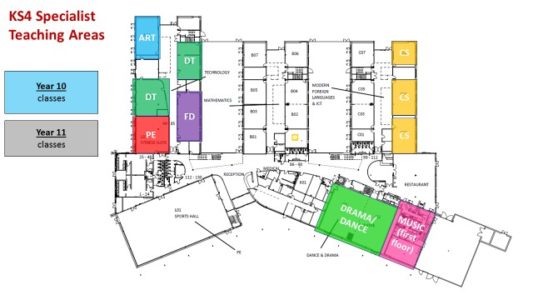 In addition to the proposals outlined above, subjects are also developing 'Recovery Curriculum' plans for each year group. These plan acknowledge the loss students will have experienced during the lockdown, whether from the loss of routines, structure, friendship, opportunities and freedom.  It then plans how to help students transition back to the Academy and back to face to face learning. In summary the recovery curriculum will:
Identify the knowledge gaps students may have developed, through formative assessment methods
Triage these knowledge gaps by teaching them in order of importance,  beginning with core concepts
Focusing teaching on core concepts, which are the key items of knowledge that support the learning of a subject
Re-establishing the skills for learning, such as completing extended written tasks based on success criteria
Re-establish classroom relationships, such as how to participate in classroom discussion, support the learning of peers and maintain good learning routines
Include opportunities for social interaction, which may have been inhibited during the lockdown period.
Additionally, planning is also taking place should a local lockdown come into effect and learning have to transition to a remote platform. The Academy has therefore been developing its teaching model so that it can be modified for the process of modular 'Remote Teaching'.  This includes:
Synchronous learning, where teachers and students will learn at the same time but in different places, for instance via live video lessons.
Asynchronous learning, where students work independently and inform their teacher when the work is completed, for instance via online worksheets or assignments.
Should remote learning become necessary, the Academy will offer both synchronous and asynchronous learning. Lesson cycles would begin with synchronous learning where the teacher presents the new knowledge and checks student understanding, followed by the tasks which students would compete asynchronously. In order to achieve this, the Academy has adopted Microsoft Teams as its remote learning solution. This offers student access to Office 365, which provide students with Microsoft Word, PowerPoint and Excel. It also enables staff to create collaborative classrooms, for students to have direct communication with teachers, and for work to be stored, marked and graded.
In summary of this provisional opening document, detail has been provided on a draft plan for how the Academy may open in September. This includes a zone based system in order to keep year group bubbles separate, modifications to teaching and ensuring specialist provision can be offered at KS4, as well as revised catering and cleaning arrangements. It has also set out how it intends to welcome student back into the classroom and the process of the learning, with the recovery curriculum. Finally, it has outlined the process for online learning, should a local lockdown be initiated and the Academy have to close to students.
Comments
We would love to hear your comments on our draft plans for the September re-opening. Please use the form below to leave your feedback.