We are committed to providing a smooth and purposeful transition process to our upcoming Year 7 cohort. Through this page you will be able to open communication with our Progress Leader for Year 7 about any concerns while also view any updates regarding our transition process.
We are greatly looking forward to your arrival with us.
Key Dates
4th July – SEN transition ½ day (invitation only)
4th July – Year 6 SEN parent evening (invitation only)
5th & 6th July – whole year 6 transition days
6th July – Parent Welcome evening
Timetables for the transition days will be sent out in the post with full details.
We will be providing food for all year 6 students on both days.
View our video prospectus
Take a virtual tour
Uniform
Founded on business principles, a smart appearance is essential to our ethos. We have a Dress Code policy in place that we expect students to follow in an around the Academy building.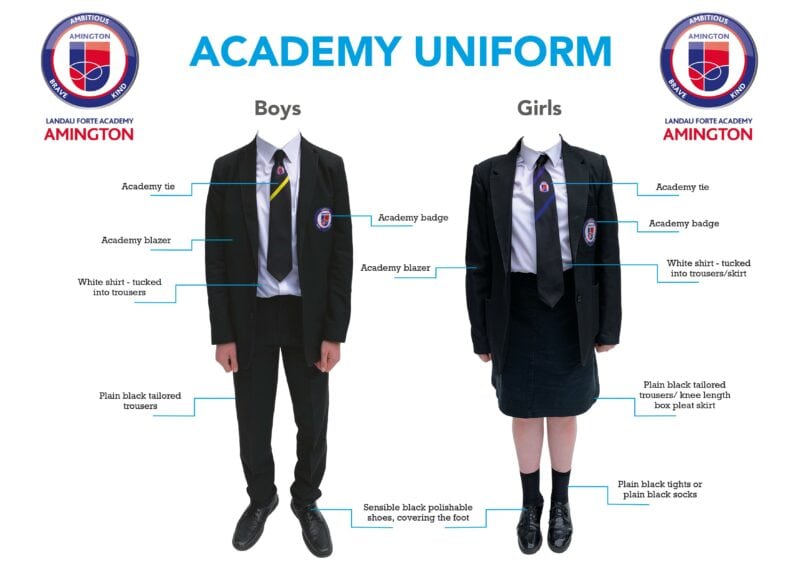 General everyday dress for all students:
Black Blazer with school badge (self-sewn or embroidered.)
House Tie
Black Tailored Trousers (No decorative zips or buttons, not skin tight, jeans or leggings)
Black school skirt. This should not be tight fitting, should reach and stay on the knee
Plain White Shirt (with collar to take tie and must be able to be tucked into skirt or trousers)
Black V Necked Jumper (optional) – No hooded jumpers
Black socks
Black or Neutral Tights(not patterned)
Plain Black Belt with Plain Buckle
Black Shoes – No trainers, visibly branded or logoed shoes or elaborate buckles/embellishments. (No different coloured soles or logos and made from polishable leather (or leather substitute), no canvas is allowed).
School bag (rucksack or other bag big enough to store school books and equipment)
House Lanyard to be worn at all times
Uniform Supplier
Printable promotions – www.printablepromotions.co.uk
SK school uniforms – 46 Chartwell, riverside, Tamworth. B79 7UG
Key Dates
Link to term dates – https://lfata.org.uk/parents/term-dates/
Link to FSM – https://lfata.org.uk/parents/free-school-meals/
Social media
We encourage you to visit our social media accounts. Like, share and engage with us:
Visit us on Facebook
Visit us on Instagram
Visit us on YouTube
Do you have any questions? – Contact Us
If you have any questions about the Academy, your first day, or anything else please contact our Transition Team who will be more than happy to help.