Dr Catherine Morris
Former student Dr Catherine Morris received an OBE in the New Year's Honours of 2022. Along with Dr Mary Cusack, Catherine has been recognised for services to Healthcare and Child Welfare in India.
Mary Cusack and Catherine Morris are recognised for their outstanding contribution to vulnerable children and their families in India. Dr Cusack and Dr Morris are former National Health Service Paediatricians. Fifteen years ago, after completing a Diploma in Tropical Medicine & Hygiene at the University of Liverpool together, they took a decision to travel to India with a mission to bring health security, education and advocacy to some of the most deprived and vulnerable children in the country.
After 5 years working with Non-Governmental Organisations and familiarising themselves with Indian culture and tropical medicine on the front line, Dr Cusack and Dr Morris established the Love the One organisation in Berhampur, Odisha. Through their inspirational vision and dedication they have created an integrated community ecosystem comprising of a children's centre, clinic, 6 early paediatric interventional care centres and a school. Through their work, they have saved and transformed lives and delivered hope through selfless voluntary service and brought great credit to the UK.
Andrew Deen, Principal at Landau Forte Academy Amington, said:
"Congratulations to Dr Morris on this fine achievement recognising her incredible work. She has transformed the lives of thousands of children throughout her astonishing career and is a real inspiration to us all.
"We are so proud that a former student has gone on to have such an amazing career and has spread so much good in the world. Dr Morris is an incredibly impressive individual and a wonderful representative of our academy and the town of Tamworth."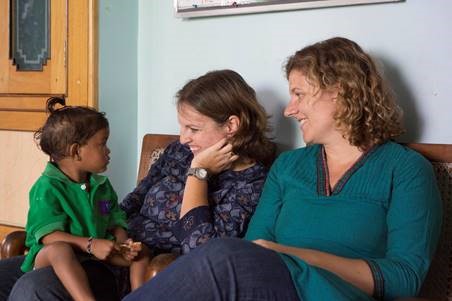 (L) Dr Cusack and (R) Dr Morris with one of the children helped by Love The One.